If you want to visit us, or send us letters or packages, use the address below. For individual member contact details, see here.
Center for Ubiquitous Computing
Erkki Koiso-Kanttilan katu 3, door E
P.O Box 4500
FI-90014 University of Oulu Tel. +358 294 482807
Fax. +358 8 553 2612
How to find us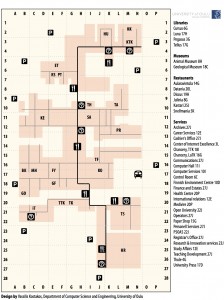 We are located at the Linnanmaa Campus of the University of Oulu, in the  "TS" building. The University offers some general travel instructions.
Once you arrive on campus, please make your way to the Computer Science Building. This is the building marked "TS" on the campus map. Click on the thumbnail for a larger PDF version of the map.
By Car
See the map below for driving directions. The University offers some public parking spaces, but it is best to contact us if you plan to visit by car.
Bus service
From the city centre: There are frequent bus services from the city centre to our campus, including no. 1, 2, 3, 8 or 22, which take about 20 minutes. Google Maps offers timetable search.
From the airport: Bus no. 8 goes from the airport directly to the University, taking about 40 minutes. Alternatively, you can take bus 9, and change at the city centre. Google Maps offers timetable search.
Taxi service
There are many taxi services operating in the region. One you can use is Aluetaksi.
Travel expenses
If we have agreed to reimburse your travel expenses, please complete these forms and send them to your host:
Travel expenses and original travel/housing receipts (to be sent to MATKAT/ 1PALPI SNELL via internal post)
Living in Oulu
If you plan to visit Oulu for a long period of time, it may be helpful to read the Oulu guide for foreigners. It is an English document that contains useful information for healthcare, emergencies, and family services.