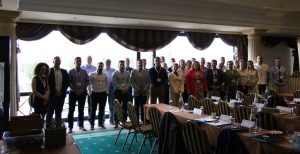 The European and Development Program Management Office (EDPD) of the Ministry of Citizen Protection in Athens, Greece organized the inaugural meeting of project PRINCE – Preparedness & Response for CBRN-E INCidEnts,  which took place on May 27, 2019.
The project involves the development of new methods for the prevention, investigation, training and preparation to deal with chemical, biological, radiological, nuclear threats and threats of explosives.
Lead by EDPD, the meeting was attended by representatives of the Political and Natural Leadership of the Ministry of Citizen Protection, and representatives of all consortium members: Fire Brigade, National Public Health Organization, Hellenic Atomic Energy Commission, General Secretariat for Civil Protection, Altus (Greece), the Centre for Ubiquitous Computing at the University of Oulu (Finland), Societal Security Solutions (Finland), INESC TEC (Portugal), People's Hospital, Ministry of National Defense / Port Police (Portugal), Ministry of Labor and Social Policy, Optimal Satellite Unipessoal LDA (Portugal) and F.I.N.T. – Future Intelligence (Cyprus).
For further information on the kick-off meeting agenda, visit : https://www.isfp-prince.eu/blog/
Source: https://www.ydeap.gr/en/nea-anakinosis/enarktiria-synantisi-kick-off-meeting-toy-ergoy-me-titlo-prince-preparedness-amp-response-for-cbrn-e-incidents/