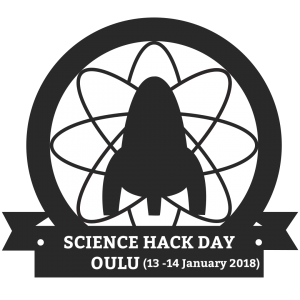 During an exciting weekend, you can join forces to other participants to create and build your own creative prototypes to solve some of the challenges proposed during the event utilizing digital fabrication.
Fab Lab Oulu will host Science Hack Days for first time in Finland. During the weekend, enthusiasts for science and technology join to prototype solutions to a variety set of challenges utilizing "digital fabrication" processes (laser cutting, 3D printing, electronics fabrication, and open source software.  Teams will be able to  build their own artifacts using Fab Lab Oulu machines. In addition, a film production company will participate in the event, making possible to contribute to a sci-fi film fabricating futuristic artifacts during the weekend.
Local and international experts support participants, and no previous experience is needed.
At the beginning of the event, anyone can pitch his or her own ideas (even the craziest ones). The jury will select the most interesting proposals, which will be implemented by the participants, with the support of experts in the field of digital fabrication. If you cannot come up with any idea, come to learn, collaborate and fabricate imaginative solutions for the problems selected by our international jury.  On Sunday evening, prototypes are presented to the jury.
Fab Lab Oulu is a small-scale workshop offering (personal) digital fabrication. In Fab Labs you can "make almost anything" utilizing cutting-edge technology.  Working at Fab Lab Oulu you can learn and strength your digital fabrication skills in a multidisciplinary and intergenerational environment. During the Science Hack Day you will be also able to meet the most important representative of Scandinavian Fab Lab Community.
Event is held at University of Oulu Linnamaa campus, both in Tellus Innovation Arena and Fab Lab Oulu (rooms TF132-135, entrance 2T)
Organizers are Fab Lab Oulu and Center for Ubiquitous Computing and Electrical Engineering.
Read more: http://www.oulu.fi/fablab/sciencehackday2018
Science Hack Day events all around the world: http://sciencehackday.org/about/
More information: Fab Lab Oulu director Jani Ylioja p. p. 050 5951 907 , jani.ylioja@oulu.fi. You can contact also Iván Sánchez: ivan.sanchez@oulu.fi