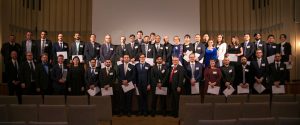 Elina Kuosmanen and Abhinay Pandya (top row, 11th and 13th from the right, respectively), at the Nokia Scholarship Award Ceremony at Helsinki Pörssitalo, November 28th 2019.
Three doctoral students from the Center for Ubiquitous Computing (UBICOMP)- Elina Kuosmanen, Jonas Oppenlaender and Abhinay Pandya– have each been the recipients of a Nokia Scholarship from the Nokia Foundation.
The Nokia Scholarship is intended to encourage efficient, fast-progressing doctoral studies and research. Nokia Scholarships are granted to individuals pursuing a doctoral degree in information or telecommunications technology or in clearly related supporting scientific disciplines [1].
Elina Kuosmanen: Managing Parkinson's Disease with Technology 
Elina's research target is to find ways to use technology to support Parkinson's patients daily life and manage the disease treatment, for example, by screening the motor symptoms and the physical effect of medication. In this sense, smartphones and wearables provide a variety of sensors for unobtrusive tracking of Parkinson's disease – the idea is to integrate them as a platform supporting patients' self-assessment and medication adherence, providing a possibility for communicating the data with the caring personnel.
Jonas Oppenlaender: Mining folk theories for a better understanding of Human-AI interaction. 
Jonas' project seeks to further the understanding of how users form theories of interpreting AI decisions and how they reason about the operation of algorithms – their folk theories. A folk theory is a mental model that users form about their belief of how an opaque system or algorithm works. The project investigates the issue of interpretability from the user's point of view to better understand user reactions to intransparent systems.
Abhinay Pandya: Mining social media harnessing meta information and background knowledge
Social media serves as an important "social sensor" to capture the zeitgeist of the society. The knowledge obtained by information mining from such sources is useful for governments, policy makers, social researchers, corporations (for marketing and advertising). Especially, in the event of a disaster/crisis, social media data can potentially save lives if correctly and speedily analyzed. However, despite the progress in natural language processing over the last two decades, the problem of semantically analyzing short texts (such as tweets) remains challenging. In this research, Abhinay addresses this problem by proposing novel techniques that augment the natural language processing algorithms by utilizing the special properties of social media texts (such as hashtags, URLs, social network structure, etc.) that have not been paid attention to in the previous research.